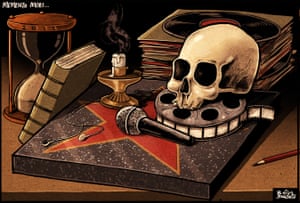 It is fair to say that 2016 has been a rotter. From the macro-political and geological events that will shape lives for a long time to come, to the deaths of David Bowie, Prince, Lemmy, Phife Dawg, G

eorge Michael,

Leonard Cohen, and other luminaries, it has been a massive drag that we'll all be glad to see the back of.
But it can't all suck, and I for one have heard a lot of new music this year that I love. So, in the spirit of looking back fondly where we can, and looking forward to something better, the theme for the last music club of 2016 will be your favourite tunes from this year. Two tracks and a celebration of what's good in bad times.
LIAM
Such a nice way to move into the silly season and towards the end of the year, Music Club's end of year round-up never fails to throw up a few gems.
I started with a whopper - 15 minutes of technical prog math-rock. The Architect is definitely in my top 5 most played tracks of the year, and I think because of that, and how I play it while working, I lost perspective of how long it is and how it would likely lose even the most dedicated Music Club attendee. This was a toughie for the group, and did make me change my second choice, but it is a great track, and I think everyone there appreciated it for its technical and ambitious delivery. The album, Affinity, did win Angry Metal Guy's prestigious album of the month in April, but apart from this track, I wasn't enthused. I feel like the album may need several listens to get my head around; regardless, this track is a definite stand-out, requiring just a little patience.
Zeal & Ardor - Devil is Fine
After the described 15 tough minutes of track one, I changed my mind of track two from my definite favourite track of the year (honourable mention below) to this ridiculously ambitious and unique option from one-man-multi-national-
bedroom-band Zeal & Ardor. Z&A has lit up several respected Internet music review peddling sites with this brief (25 minutes) combobulation of black metal, gospel blues and chain-gang hymns. I don't know if it should be described as avant garde, experimental or just wanky, but it's pretty darn catchy for something so out-there, and is sure to feature on a number of end of year best of's. There is an element of novelty value here, but also there's a heap of quality, especially in the vocals - I believe he performed the vocals throughout. He's recently signed a record deal which means this album, also called Devil is Fine, is to be re-released in February, and it'll be very interesting to see where Mr. Zeal and Ardor goes from here. Definitely worth checking out at only 3 minutes long!
Honourable mention :- at the risk of angering the Music Club powers-that-be, I couldn't let the year end without mentioning my favourite track - Black Autumn, White Spring by Uada. After 15 minutes of prog, I felt 9 and a half minutes of black metal was too much to inflict on the good people of Music Club, but if you haven't got enough options from all the other great recommendations on here, have at this, and stick out for the climactic conclusion to this fantastic track.
CHRISTIAN
What an interesting time we find ourselves in: 2016 has been great for music but absolute arse in many other respects. We blithely swipe pointless images on expensive gorilla glass whilst the last remaining gorillas have their habitats felled - the mass extinction continues apace. Vacuous celebrities sell banality while intolerance rises and the confederacy of dunces inaugurates. The Anthropocene is starting to bite and no further posturing nor politicising will have any material effect on what's coming our way. The corporate takeover of daily life tightened its grip and RedFoo released an album so obscene that worldwide culture withered in its wake. It's time for some heavy hitting musical catharsis!...
The Vision Bleak - Into the Unknown.
A rousing song by this German duo that provides catchy melodies and riffs to rouse the spirit; chest beating choruses with gothic lyrics, which remind us that we'll never be the same again. I read somewhere that the genre pendants put them down as Horror Metal, but that just sounds like reductive hogwash to me. They remind me of mid-period Paradise Lost, The Mission and other hard rocking outfits with new romantic sensibilities. A great album that I've been coming back to often and this track is a strong contender for my favourite song of the year.
Cult of Luna - The Wreck of S.S. Needle.
From the masterful Mariner, this song shines amidst a solid selection. I loved their previous album, Vertikal but can't get enough of the addition of Julie Christmas (apt, mais non?). She has all the bile, anger and contempt required for these tempestuous times. The way she sounds unhinged, cute yet murderous in one line of a song is pretty amazing. The backdrop of dark and foreboding textures mesmerise then pulverise. The ship's going down; They are playing this song on the deck; I am organising my deckchair to get closer to the action. Best album of the year.
DEB
47Soul – 'Don't care where you from'
I saw this band at Womad 2016, fabulous live performance. The band identifies itself as Palestinian, its 4 main members are from, or their parents were from, Palestine.

Their music is a mix of traditional instruments and melody with a modern twist and beat. Hip hop influences them, a little bit of reggae – all sounding very middle eastern. The live shows involve the crowd with their take on traditional music, leading to traditional dancing and not-so traditional. The band has not been around that long, relatively new, will be interesting to see how their music develops. This song is about their main principle/aim/hope/mission – don't care where you from - if you like music, you like to dance, you want to join in, you want to have fun, you want to live life wholeheartedly. Not uplifting, just stating the fact, don't care where you form, come and join in.
Red Hot Chilli Peppers – 'Dark Necessities'
New album came out this year, around May I think. There has been a b it of break between albums for the RHCP and that break has been good for them, I reckon they have their groove and funk back.

I love this song, the bass beat is fantastic and drives the song. You cannot listen to the song and not tap your feet, or, shake your hips, ahh, that beat. Funky. Flea still has it. Anthony's voice is in fine form, he can sing very well when he wants, live and on the album. I find this song hopeful, of possibilities that may happen. And that beat and melody throughout the song, it lingers in your mind.
RAE
Gregory Alan Isakov - Liars (with Colorado Symphony)
My introduction to this musician was whilst listening to the RNZ National 1-4pm programme under the "Favourite Album" slot, they played a couple of songs from his album This Empty Northern Hemisphere. I went ahead and purchased this album as a gift for someone else and have since spent 2016 digesting his music. Born in J'burg, South Africa he immigrated to the United States as a child and was raised in Philadelphia, Pennsylvania. I particularly enjoy the rich sound that the Symphony brings to this song, he's been one of my "finds" for this year and I've enjoyed undertaking significant life pondering whilst in the company of his music.
Strangers - Mirrorland
Fairly typical Australian (Sydney based) 4-piece rock band. Not to be mistaken for "The Strangers" Australian or American versions around in the 60/70's. I can't really attest that these guys are a favourite, but I came across this song via Spotify the week we met up for Music Club and I chucked them into my "to be investigated further" playlist. Reasonably new on the scene, debut LP Persona Non Grata as released 2012, produced by Tom Larkin (of Shihad fame). Toured Australia Nov-Dec 2016 as support for Birds of Tokyo. As I delved into finding out a little more about this song I came across "Welcome to the Mirrorland" from Kingston Wall (psychedelic/progressive/acid rock) from Helsinki, complete tangent and lots of rat holes later, Mirrorland is about not being able to see anything positive in life.
Reflecting on both songs they resonate, not from having those feelings myself but remembering that "to celebrate" doesn't mean we have to listen to cheerful music and from bad comes good in most instances, bad has a shelf life!
CARL
It has been a funny old year... As alluded to in the preamble, there has been a significant shift in the illusion we call real life and yet in listening to the other club members I felt that I was less affected than some. I suspect that may be a symptom of my gap year... my doses of 'Intelligent Adult Conversation' have severely dwindled and I am well under the RDI... The upside of that is that it doesn't take much to cheer me up...
Cheery tune #1 is from the Tokyo Ska Paradise Orchestra. Having discovered these guys last month I also serendipitously found that amazon.co.jp publishes in english alongside their Japanese selections. Throw a credit card into that mix and a week or so later some physical media turns up that was everything you'd hoped it would be. I enjoy a lot about this tune... the beat, the rhythm and even the lyrics... which, while in English, seem not quite attached to each other... I'm just being picky really. Not every artwork has to tell a story.
The second choice started life as an innocent search for albums released in 2016. Of *course* there's a wikipedia page for that... Surprising how many artists I've come across who had released something this year. The offering from Lacuna Coil, one of my faves, was a bit dark... Die Antwoord, who are spectacular live, produced something angry... Even Rick Astley released something that I didn't bother to check out... there are some limits, or so I thought. I'd pretty much settled on a guy called Faderhead who is a German EBM type chappie however in my leadup blurb I casually mentioned that I'd also considered Redfoo... at which point, according to my distinct recollection, Christian expressed an interest in hearing this hitherto unknown artist. What then followed didn't quite lead to physical violence however even I, poor as I am at reading body language, was quite clearly being given a message by those assembled, and not a very pleasant one at that... Never mind. I am an adult and I live and die by my choices!
Go on, you have to laugh :-)
JAKE
Amongst everything else, my 2016 has seen friends and family been diagnosed with cancer. Aside from the physical ravages of cancer treatment and mortal danger cancer's victims find themselves in, one of the costs of cancer is personal sovereignty. Previously vivacious and independent people become patients who, as they lose their hair and their energy, become dependent on those around them. It's hard to watch and it must feel like losing oneself.
Andrew Bird's 2016 album, Are You Serious, is largely about him getting married, having a kid, and moving from Chicago to LA. One of the elements of this was his wife's cancer treatment. My first selection, Puma, is named for something his wife said to him after her diagnosis: "I'm afraid people will think of me as a girl and not a puma." This bouncy pop song captures affirms self-identity and the bonds of love in trying times.
As a whole, Lambchop's 2016 album Flotus is a meditation, where each track feels a lot like the last and Kurt Wagner's cryptic lyrics, normally sung in a crystal clear baritone, and smothered in filters and effects. Clocking in over 18 minutes, The Hustle is a quietly uplifting and powerful conclusion to the album. It's five minutes of loops before Wagner's voice comes in, sand effects, and begins to string out a simple song of love as the underlying music shifts without ever seeming to change. A gentle and insistent reverie which concludes on the edge of a dance floor, watching the crowd do the hustle.